Dumpster rental seems so ordinary that everyone thinks it is as simple as calling a company, having a dumpster provided and then the company hauls the dumpster away after it has been used. However, as with any other service, once you dig a little deeper and learn more about dumpster rental specifics, you are likely to have questions.
At Conway Dumpster Rental Center, we deal in dumpster roll-off service and recycling services. This list of frequently asked questions (FAQs) has been compiled to assist you with your most pressing inquiries.
Get all your dumpster questions answered: 843-258-1782
Our friendly staff will guide you through the rental process.
We always deliver the bin on time and pick it up on time.
We offer low prices – no hidden or extra fees.
We provide a no hassle simple straightforward contract.
We are a Conway local family-owned business.
We are a green company and we love recycling.
How large is a dumpster?
The dumpster's dimensions are displayed in cubic yards. For example, a 30-yard dumpster can hold 30 cubic yards of waste materials. The standard sizes for our dumpsters are 10, 20, 30, and 40 yards.
How long can a dumpster be rented?
With maximum rental services, you can rent a dumpster for any period of time ranging from one day to four weeks. However, larger waste management companies such as ours can provide dumpsters that can be rented for longer than four weeks or even on an ongoing basis. In this setup, the dumpster is serviced to a regular curbside collection, with removal happening daily, weekly or even bi-weekly.
What is the dumpster rental process?
The dumpster rental process is actually pretty simple. First you call the dumpster rental company and let them know where and when you would like your dumpster delivered.The driver then delivers the dumpster on the date you ordered. You then fill the dumpster with debris and other items from your location, home, or job-site. When you are finished with your dumpster, call the office to let them know you are ready for the dumpster to be removed.
What size dumpster do I need?
This is the most common question we receive. It is often hard to predict just how big of a dumpster you need, especially when a small job ends up turning into a rather large one. Here is Conway Dumpster Rental Center we offer a variety of dumpster sizes to accommodate jobs small and large. Head over to our dumpster selector guide to view all of our dumpster sizes. Still unsure what size is best for you? Give us a call and one of our representatives will be happy to discuss your options with you.
What can I put in the dumpster?
All types of items can go inside of dumpsters. Roofing and construction companies use dumpsters for roofing shingles and other construction debris. Renting a dumpster for yard waste is common in the spring and fall. Dumpster rentals for home renovations that require disposing of drywall, tile, and other debris are also frequent. Most household junk can also go inside of your dumpster. Items you are not allowed to put in the dumpster include batteries, adhesives, oil, paint, tires, and anything that might be flammable or explosive.
How high should I fill the dumpster?
The rule when loading your dumpster is to keep the top even and level. When everything is packed evenly, it will create more room inside your dumpster and allow for a safer removal process.
How much does it cost to rent a dumpster?
Enter in your zip-code for a free instant quote on our website. The cost to rent a dumpster depends on the size you need and the length of your rental. Dumpster rentals come with a rental period and a tonnage capacity for each size.
Why use Conway Dumpster Rental Center Whiz?
When you rent a dumpster from us, you'll save time and money. We provide property owners, contractors and business owners with quick and courteous dumpster rental services at low, flat-rate prices. To learn more, call us at 843-258-1782.
Is it true that I need to load the dumpster in a certain way?
Yes, that's correct. Dumpsters must be loaded in a way that the fragments inside stay even. There must not be any concentrations of waste heaps or holes in a specific area inside the dumpster. You must likewise try not to overload the dumpster.
This means that the junk cannot exceed the container's height or protrude from its sides. Improperly filling a dumpster may result in additional fees. Large dumpsters typically include a door to facilitate correct loading.
Is my presence needed during the dumpster pick up?
If the dumpster was loaded properly and there are no obstructions preventing access, your presence will not be required for collection.
In the case that I need the dumpster for a more extended period than what I initially paid for, what should I do?
If you discover during your rental that you may require the dumpster for a longer period than you initially planned, you must notify us immediately. We are typically accommodating in these circumstances and do not impose additional fees for dumpsters kept for two or more days.
How fast can I obtain a dumpster?
Dumpsters are available for rent on a first-come-first-serve basis due to the logistics involved. It is possible to acquire a dumpster on the same day you made your order in some cases. We are very passionate in giving you the exceptional quality of services, so we always deliver our dumpsters as fast as possible.
Furthermore, a dumpster can be picked up on the same day as delivery. We too accept bookings that are made one day in advance.
Is it okay for me to use a dumpster bag instead?
Yes, you can. However, you will typically receive less space and weight per dollar with these bags compared to a dumpster for storing your waste.
How do I know what size dumpster to rent?
Call us up to discuss your project, and our customer service team can help you choose the best dumpster for the job.
How much does a dumpster cost?
The cost of a dumpster is made up of several factors: the size of the dumpster, the weight of the debris, the length of the rental period and local taxes and fees. This means that the exact price of a dumpster varies according to location and the specifics of your order. No matter where you're located or how much you're disposing of, we offer simple flat-rate pricing on all of our dumpster sizes, so you'll always know the full price up front. Also, keep in mind that each dumpster has a weight limit. These limits allow for a lot of weight but if you should go above the limit, there is an extra charge.
How do I rent a dumpster?
All it takes is a quick phone call. Our customer service representatives will help you choose a dumpster size and set up your order within minutes.
What If The Dumpster Causes Damage?
You acquire the dumpster at your own risk. Please be aware that the dumpsters and trucks are extremely heavy, so it is possible that they could cause damage to the area. We placed wood underneath the junk can when it was placed on the driveway. This protects the driveway almost always, but we are not responsible for any damage.
What If Rainfall Occurs?
When the dumpster is picked up and placed on the truck, all excess water will be drained away. Yes, the weight could be affected if there are items that absorb water. There is nothing we can do to change the situation. We are also charged for the weight of that water. If you are extremely concerned, we recommend covering it with a cover to keep water out.
Why Do I Get Charged For Overweight?
We transport the dumpsters to transport stations, which charge is based on the dumpster's weight. We include a certain weight allowance in the cost of the dumpster. However, if it exceeds the weight limit, you will be charged for the excess weight.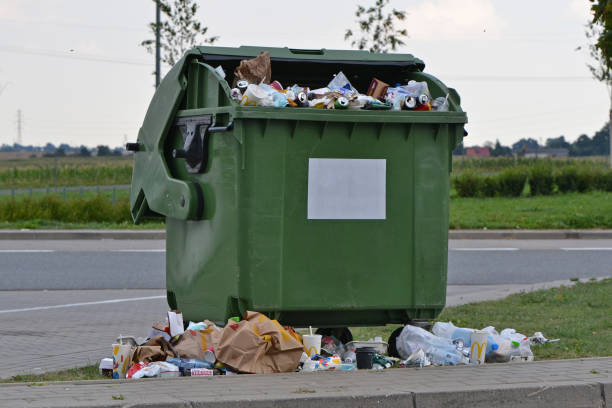 What Happens If My Dumpster Is Overfilled?
If the dumpster is too full, we will not collect it and a trip fee will be assessed. In some instances, it is only a matter of a few items being unsafely piled on top. The driver will remove them and leave them on the premises.
How much does dumpster rental cost?
This differs by company, but most charge for pick-up, drop-off, fuel surcharge, tonnage, and daily rental. Depending on your circumstances, there may be additional fees. Be certain to discuss your needs with the company in advance.
What types of junk do you remove?
We specialise in working with the majority of home improvement, demolition, and cleanout projects, but EPA regulations prohibit us from disposing of certain items.
How long can I keep my dumpster rental?
All of our dumpsters come with a 14 day rental agreement; however, we understand that sometimes projects take longer than expected.
How Do You Take Payment?
We require additional payment upon delivery. We accept cash and debit/credit cards as methods of payment.
Can the Dumpster Be Moved?
No. We recommend that someone be present at the time of delivery (though it is not required) or specify exactly where the dumpster should be placed on the property. If we are unsure, we will place it in the most convenient location possible. Call us If you have questions about location.
Can I rent multiple dumpsters?
Quite simply, yes. You can rent as many dumpsters as necessary for business waste removal.
Will My Driveway Be Protected?
Yes, always. We put down wood to protect the property at every delivery.
Will The Container Be Picked-Up Automatically?
Yes. We will automatically return in 7 days to pick up the container unless you instruct otherwise.
When will the roll-off dumpster get picked up?
This depends on the agreement between you and the company. Since waste management, length of service, and the waste collection schedule are going to be discussed beforehand, the dumpster will be picked up (with or without junk inside) at the agreed address, on the agreed date and time.
How big are the dumpster containers?
The volume of a dumpster is measured in cubic yards. Typically, waste management companies offering these bin rentals, such as ourselves, offer 14 different dumpster sizes. However, keep in mind that other retailers may not carry every available size, as some may be out of shares.
You can discuss dumpster dimensions with an expert at our company (dial 843-258-1778 immediately). Thus, you can provide an accurate estimate of the amount of junk that needs to be removed from your home or business, and our company can then recommend an appropriate size.
What goes into the junk can?
Our business accepts all household, construction, and concrete waste materials. Soil, stumps, and brush are also permitted. Keep in mind, however, that hazardous wastes such as harmful chemicals, battery liquids, asbestos, solvents, and other hazardous wastes are prohibited or require special packaging.
Consult your local county government office if you need to dispose of these types of wastes; they will be able to provide you with a list of accredited companies that can safely handle and dispose of hazardous chemicals.
What is your policy on recycling and being environmentally friendly?
We, like many dumpster rental and waste management companies, offer eco-friendly services. Typically, the dumpster's contents are dumped at the landfill as soon as the garbage has been collected.
However, Conway Dumpster Rental Center, like the majority of dumpster rental companies today, offers bin rentals for recyclable materials. Occasionally, some companies offer to sort the contents of your recycling bins for you. You need only inquire whether they provide this service.
What size dumpster do I need?
This will depend on the scope of the project or the expected amount of waste generated. Our company's policy has always been to inform customers of the maximum load capacity of the container unit. If you are unsure of how much junk you will generate, it is recommended that you rent a larger dumpster.
However, smaller dumpsters are preferred when remodelling or renovating a home or business. As construction debris such as cement, rocks, and other heavy materials tend to be heavier than typical junk, they can exceed the weight limits. When in doubt, please contact us by phone. The specialists in our office can assist you with this decision.
Before you sign your agreement with us, know that each city has different dumpster specifications for both private and public land. Do not forget to contact your local county and ask the requirements you need to follow. On some occasions, the rental company can assist you to garner the information you need. However, processing it would be in your hands.
Get all your dumpster questions answered: 843-258-1782
Our friendly staff will guide you through the rental process.
We always deliver the bin on time and pick it up on time.
We offer low prices – no hidden or extra fees.
We provide a no hassle simple straightforward contract.
We are a Conway local family-owned business.
We are a green company and we love recycling.